We Provide Total
Health Care Solution
Every day we bring hope to millions of children in the world's<br> hardest places as a sign of God's unconditional love.
View Details
We Provide Total
Health Care Solution
Every day we bring hope to millions of children in the world's<br> hardest places as a sign of God's unconditional love.
View Details
The Compass Health Consultancy
We believe Patient and Healthcare Professional's Safety come First!
The Compass Health Consultancy is pioneering in consulting, training and coaching of healthcare professionals and organizations across the Middle East and Africa.
We understand the complex challenges that healthcare providers are facing daily across all
care settings; therefore, we invented state-of-the-art Safe Care Excellence Blueprint, which is designed to deliver values and elevate healthcare standards, practices and compliances.
Our team works closely with you to champion your vision by listening first and then applying their expertise. With our thorough knowledge of the healthcare industry, the international and local accreditation standards and recommended practices and guidelines, we apply our healthcare safety prescription P.I.L.L Framework to diagnose the gaps. Accordingly, we prescribe specific skills and innovative strategies, frameworks and solutions to help you produce a dynamic culture of health and safety in the workplace, elevate healthcare standards, increasing compliance and health outcomes to achieve our common goal of ZERO HARM.
Read More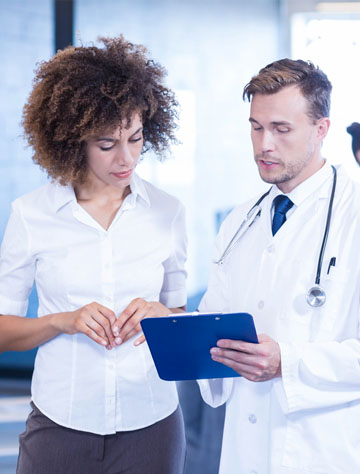 I learned a lot from The Compass Health Consultancy team during our training in Dubai, and I would recommend it to everyone especially my friends from the Africa region to come and learn from them too. I liked the knowledge transfer in-class training about healthcare practices and principles and hospital visits. The Compass Health Consultancy is a great company to partner with when it comes to healthcare services. God Bless you and thank you for the hospitality.
Hon. Moses Ochieng Member County Assembly - County Government of Busia – Kenya
The Compass Health Consultancy is such a great organization. It can help you to achieve your goal of excellence in the field of healthcare training and consultancy.
I do recommend it to anybody who is looking for a place to acquire knowledge within the shortest time to engage with The Compass Health Consultancy.
The Team is highly qualified, professionals and experts in their field and connected with UAE healthcare institutions private and governments.
Hon. Laban Mukhwana Member of the committee of Health at the country assembly - County Government of Busia – Kenya
I find The Compass Health Consultancy forthright in their engagement and I recommend them to those who would like to gain knowledge in the world of health. I'm looking forward to future engagement with them.
Hon. Linus Asiba Member County Assembly - County Government of Busia – Kenya
I recommend The Compass Health Consultancy, to organize our healthcare management and governance training meetings in the UAE in the future.
The Compass Health Consultancy is going to play an important linking role between the Busia country health department and UAE MOH.
I will always remember the wonderful experience and lessons learned from this training. I highly appreciate all the effort of The Compass Health Consultancy team and the quality of services and knowledge provided to my group during our stay in Dubai.
Dr. Isaac Omeri Chief Officer Health Sanitation & Head 0f Delegation - County Government of Busia – Kenya
Thank you for the good presentations from all the speakers. I appreciate the good knowledge learned from the workshops and training and I promise to recommend The Compass Health Consultancy to my colleagues in Kenya and in all the 47 Counties. Thanks for Hosting and accommodating us. God Bless The Compass Health Consultancy.
Daniel Ote Secretary of the Health Committee - County Government of Busia – Kenya
Exclusively, a great experience and excellent experts and training for both workshops and hospital site visits. I approve the Compass Health consultancy training and conference to be an amazing and wonderful experience most especially Dr. Hania and caroline (CEO). I do recommend every person, company, and organization that deal with health to work with the Compass Health Consultancy.
Nancy Okademi Vice Chairperson Committee Health at the County Assembly - County Government of Busia – Kenya
The Compass Health Consultancy is a noble, perfect and well-organized institution. It leads to a center of excellence in Medical Tourism.
I have enjoyed the presentations; facility visit and hospitality from the number of staff.
I hereby recommend my colleagues and institutions to continuously benchmarking healthcare in Dubai and UAE through The Compass Health consultancy.
Andrew Otiti Country Chief Officer - County Government of Busia – Kenya
The Compass Health Consultancy is such a organised organisation That has expert speakers for each topics and sessions in healthcare settings. I love you and will recommend you for my colleagues in Kenya. VIVA! KuDos for the work an making me love Dubai..
Hon.Florance Atieno Member County Assembly - County Government of Busia – Kenya
FOR THE PAST FEW YEARS, I HAVE BEEN SEARCHING FOR A PERFECT COURSE IN INFECTION CONTROL, SPECIFICALLY IN MY FIELD OF DENTAL CARE.
MOST OF THE TIME,I ATTENDED GENERAL MEDICAL INFECTION CONTROL TOPICS WHICH WAS NOT MEETING MY NEED AND EXPECTATION.
FINALLY I ATTENDED A COURSE GIVEN BY CAROLINE BILEN (THE COMPASS HEALTH CONSULTANCY), ORGANISED BY CAPP EVENTS DUBAI IN AUGUST 2019 WHICH WAS VERY USEFUL FOR MY CLINICAL PRACTICE AND GOT LOTS OF GOLDEN TIPS TO IMPROVE MY QUALITY IN CLINICAL PRACTICE AND PATIENT SAFETY.
THIS IS MAINLY BECAUSE of CAROLINES DEDICATION AND HER EXTENSIVE KNOWLEDGE AND EXPERIENCE IN MEDICAL FIELD. AND OFF COURSE MEDICAL FIELD IS CHANGING DAY BY DAY, IN FUTURE AM VERY MUCH INTERESTED TO COOPERATE WITH CAROLINE FOR UPDATION REGARDING the SAME TOPIC. ONCE AGAIN THANKING CAROLINE BILEN AND CAPP EVENTS FOR THIS WORTHWHILE COURSE.
DR MURASIM MAPADAN MDS ORTHODONTIST- TAJ POLYCLINIC- GULAIL-JEDDAH KSA
I was very delighted to meet Caroline in Dubai to attend an intensive two days course about infection control.
As I was an ex- coordinator of infection control in my health district This course, added some new pieces of information and changed both my work and personal life in such a positive way already.
I have been able to apply the results and tips immediately. Caroline is very knowledgeable, passionate and able to meet our expectations and satisfy individual needs.
The Compass Health Consultancy provides a great service and training to build knowledge in the health care field. I highly recommend the healthcare team to Attend the infection controls principles and practices in dental settings to elevate the standard of care and patient and dental healthcare safety in dental settings.
Dr. Lulwa Abdullaziz ALMulla Ministry of Health- Kuwait
The workshop I attended along with the Head of Dental Assistants for Infection Control Principles and Practices for Dental Setting presented by Ms. Caroline Bilen and one of her consultants is by far one of the most informative and knowledge enriching courses.
Being a Dental Centre Manager for 6 years now, there has been a considerable lack in the market for infection control workshops designed specifically for dental facilities.
As part of our annual training, clinical staff namely the dental assistants need to attend refresher courses in infection control . However, I can surely say that out of the numerous courses I attended, the one provided by Capp in co-ordination with The Compass Health Consultancy is unparalleled.
Not only does it have a strong theoretical base, but it delves into the know-how tools of dealing with hugely common unsafe practices that we see on an everyday basis that we do not even consider as unsafe.
Natasha Suleima Dental Center Manager -UAE
This course has completely revolutionized my views of several important concepts that I use in my day to day job, preventing infections.
She explained all points in a friendly way and engaging us in her discussion to ensures that you both learn and enjoy the course.
It is difficult to express the depth of Caroline's love for the prevention of infections at the workplace. She was more than happy to discuss topics with me after the lectures which were very specific to my workplace. Caroline is a great instructor and an incredibly kind person.
I highly recommend infection control principles and practices. It will definitely help you to perform better your duties at the highest degree.
Mary Younan Infection Prevention control officer, Jaber hospital, Ministry of Health- Kuwait
I could not thank you enough for this Infection Control course.
It's very informative and an eye-opener as you explain why it's really necessary to adhere to the standard precautions.
The interaction of the attendees makes the course lively as they share their conflicts in the practice of Infection Control.
The course is designed specifically for the dental setting. Unlike the ones, I attended before.
Caroline, you are also very approachable, and enthusiastic to share your knowledge which I appreciate most of all.
I hope you'll never get tired of continuing this advocacy. More power to you and God bless!
Ailleen Adia RDH RDH Dental Assistance - UAE
My name is Dr. Rachelle Casia, a General Dentist working here in dubai. I attended the infection control principles and practices for dental settings course under Ms. Caroline Bilen last August 23 and 24, 2019. I learned alot of things about infection control and sterilization. This was the first training which was focused on dental settings that was truly helpful to me. Especially caroline's exceptional communication skill and her enthusiasm to share her expertise and knowlegde. Indeed, I greatly recommend this course to all medical and dental practitioners. It ¡s worth it.
Dr. Rachelle Casia General Dentist UAE